There are a number of deals ending this week that I wanted to make sure you didn't miss. All of these will make fantastic Christmas gifts!
Ending Tomorrow (Tuesday, December 1)
:: 10 popular magazine subscriptions for just $5 each at Amazon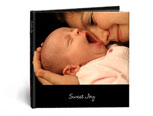 :: Get your code for a FREE 4×4 clutch photo book, a 25-count pack of holiday cards or an 11″x 8″ calendar with FREE shipping from PhotoWorks at American Greetings. You can also choose a $25 credit for a gift of your choice (shipping is not included).
Ending Wednesday, December 2
::
Huggies or Pampers for just 13.7 cents/diaper or Luvs for just 11.2 cents/diaper (compare to Costco's price of 21.4 cents/size 4).
Don't have a kid in diaps? Give them as a Christmas gift for a mom or dad on your list — what a blessing to not have to buy diapers for a month!
Ending Friday, December 4
:: Get paid $75 to open a free checking account at any Albertson's U.S. Bank branch. It's super easy and takes about 30 minutes from start to finish. Use your $75 to buy Christmas gifts.
Deadline Unknown

:: 140 Labels for just $3.18 shipped! Make return address labels for someone away at college (a great housewarming gift, too!), book labels for your child's teacher or small business description labels for a friend or something for yourself.
You can order multiple sets — I've done it under my husband's email and mine. And they ship super fast. I've received all of my sets in less than one week.
:: Up, Monsters, Inc and Cars Blu-rays for $30.91 including shipping
Keep checking back for more frugal Christmas gift ideas! Angela
This post may contain affiliate links. See the disclosure policy for more information.