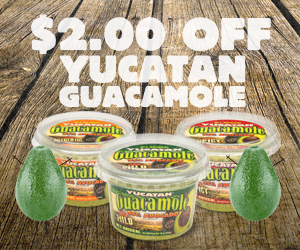 Bust it and print this new $2/1 Yucatan Guacamole coupon. There are not many prints available and it expires December 12 so there's plenty of time to find a great deal.
I did notice that Fred Meyer carries this brand. I actually bought it and it's pretty good!
Yucatan Guacamole — $5.99
Use $2/1 coupon
$3.99 after coupon
The tubs are fairly large (they are not the skinny ones). The coupon is only available to residents of Oregon and Washington.
This post may contain affiliate links. See the disclosure policy for more information.